Eva Hesse
2018
1536 px x 2048 px
iPhone Painting
As a child Eva Hesse escaped Nazi Germany on one of the last Kindertransport trains to the Netherlands. Eventually she ended up in New York City, and went on to become one of the most influential sculptors in modern history. So visceral and human, her work has often inspired me to try to instill honesty in my own art. Something about Eva Hesse particularly touches my heart. She is definitely one of my Art Heroes.
————————————————————————————————————
Andy Warhol
2018
1536 px x 2048 px
iPhone Painting
I've always loved the way Andy Warhol was able to make art that showed us things about ourselves we didn't necessarily care to see but somehow loved to look at anyway. Anyway, there's no question that he almost single-handedly changed the course of contemporary painting. I think it's funny how he often put on a veneer of shallowness while creating conceptual earthquakes in the worlds of art and culture. He'll forever be one of my Art Heroes.————————————————————————————————————
Anthony Bourdain
2108
1536px x 2048px
iPhone Painting
I'm including this portrait of Anthony Bourdain because I think he was a great artist and communicator. The fact that he took his own life doesn't change that for me. I can't say I understand suicide - in my regular, day-to-day life I find it baffling. But I can say I've been there myself and it's difficult to talk about without resorting to metaphors and similes. For me it was about nothingness, a profound feeling of disconnection from everyone and everything. And once I touched that feeling, or it touched me, it felt like I was being sucked into that nothingness—and here's the simile—like it was a black hole. I was fortunate that I found a way to connect myself back to the world, to life. I hope if you ever face that black hole you'll find a way to reconnect to life too. I wish Anthony Bourdain had found a way to do that before it was too late. He was one of my Art Heroes.
————————————————————————————————————
Peter Gabriel
2018
1536px x 2048px
iPhone Painting
A great artist of song and an amazing lyricist with a heavenly voice, ladies and gentlemen, I give you the wonderful Peter Gabriel. Former prog-rock front man, sledgehammer of pop, human rights activist, creator of sonic spirituality, and the only man able to successfully pull off the Reverse Mohawk, he remains one of my favorite Art Heroes.
————————————————————————————————————
Cy Twombly
2018
1536px x 2048px
iPhone Painting
Edwin Parker Twombly, Jr. was called Cy in honor of the baseball legend, Cy Young. Some people see nothing but scribbles in his paintings, but when I look at them, when I stand in front of them and absorb them, my heart leaps in my chest and I know I'm witnessing something that can honestly be called art. For his genius at making cryptology beautiful and romantic, he remains one of my Art Heroes.————————————————————————————————————
Richard Diebenkorn
2018
1536 px x 2048 px
iPhone Painting
I'm a Californian, so of course Richard Diebenkorn is one of my favorite painters. A ballet dancer of light and color, you may know his famous Ocean Park series, paintings that seem to me perfectly poised between representation and pure abstraction. Simultaneously expressive and taciturn, he is one of my beloved Art Heroes.————————————————————————————————————
Neil Young
2018
1536px x 2048px
iPhone Painting
More than a rock star, a folkie holdover, or a grandparent of grunge, Neil Young has proven himself a brilliant composer of americana with honesty and conviction only a Canadian could achieve. His high, oddly endearing tenor voice has haunted me from my childhood all the way through to my middle age. Neil Young's songs have provided the soundtrack for all my dramas and comedies, and he has always been one of my Art Heroes.————————————————————————————————————
Philip Glass
2018
1536px x 2048px
iPhone Painting
Most people know Philip Glass as a minimalist composer who has created some of the most evocative film scores in cinematic history. His repetitive musical structures are unmistakable and represent a now familiar break from traditional "classical" composition. What has always stuck in my mind about him is that even while he was gaining fame as a composer he still drove a New York City taxi to earn his living. For that reason, and for so many others, he's one of my Art Heroes.————————————————————————————————————
Ursula Le Guin
2018
1536px x 2048px
iPhone Painting
Ursula Le Guin had a huge influence on my thinking as I was growing up, especially through her book The Lathe of Heaven and the books of The Earthsea Trilogy. She was an anthropologist of speculative fiction who brought gravitas to the genre of fantasy and science fiction. While painting this portrait I was reminded of my mother, another beautiful writer, and along with Le Guin, one of my Art Heroes.————————————————————————————————————
Anish Kapoor
2018
1536px x 2048px
iPhone Painting
Way back when, in the 1980's, I walked into a gallery in Soho and encountered a mysterious, impressively large pyramid of deep blue pigment rising up from the middle of the parquet floor. At that moment I fell in love with the work of Anish Kapoor. Born in Bombay and raised in London by an Indian father and Jewish mother, Kapoor has astounded me over the decades with his clarifying and conceptual wit. You may be familiar with his Cloud Gate sculpture (aka "The Bean') in Chicago's Millinneum Park. His Instagram page "Dirty Corners" is a marvel. Don't get me started on the artworld kerfuffle he started around Vantablack, the least reflective substance known to mankind (he won't let anybody else use it). Despite that current controversy, he is still one of my favorite Art Heroes.————————————————————————————————————
Diane Arbus
2018
1536px x 2048px
iPhone Painting
I learned about the photographer Diane Arbus from my very first girlfriend when I was a teenager in the San Fernando Valley. I always felt like a bit of a freak growing up in that bland suburb of Los Angeles so I loved the way she elevated the weirdoes, outsiders, and misfits to the level of art. Seeing her cool-eyed photos made me feel like there was a place for me in the world. She is one of my Art Heroes.————————————————————————————————————
Joni Mitchell
2018
1536px x 2048px
iPhone Painting
When I was a teenager back in the 1970's I had a dream that I was living with Joni Mitchell in a house on the beach in Malibu. At the time, this fantasy arrangement didn't seem so improbable because, despite our age difference, Joni felt like a friend of mine, someone who's music and words lived comfortably between my ears, whose voice was as familiar to me as my own. It wasn't until years later that I began to understand and appreciate her artistic genius, her radical, singular gift. To this day she remains one of my most cherished Art Heroes.————————————————————————————————————
Elvis Costello
2017
1536px x 2048px
iPhone Painting
Born Declan Patrick MacManus, he began his career as the New Wave Angry Young Nerd but surprised the world when he later revealed himself to be more than a canny cardboard cutout or a brit-pop flash-in-the-pan. Turns out he was an artistic innovator of the first order, a musical magpie, a prolific writer of genius pop songs, and a shape-shifting impresario/entertainer. Needless to say, he's one of my favorite Art Heroes.————————————————————————————————————
Jean-Michel Basquiat
2017
1536px x 2048px
iPhone Painting
Born in Brooklyn from a Haitian father and a Puerto Rican mother, Basquiat started out in the 1970's as a New York graffiti tagger but soon burst into fame with his radical neo-expressionist paintings. I loved his stuff from the moment I saw it; he was one of the reasons I made the move to New York from California in the 1980s. Tragically, Basquiat died of a heroin overdose at the tender age of 26. He was a painter's painter and a great, original artist. He's still one of my Art Heroes.————————————————————————————————————
John Lennon
2017
1536px x 2048px
iPhone Painting
I remember the first time I heard — and saw — the Beatles it was like a missing piece of me suddenly clicked into place. I understood for the first time who I was and what I wanted to be: a guy with a Beatles haircut. And, although I admired and emulated Paul's cute-popular persona, it was Lennon's rough-edged artistry I aspired to. When he was shot in 1980, a black curtain fell on the world that no light can penetrate for me, except when I hear him singing again on the radio. Goodnight John, you'll always be one of my Art Heroes.————————————————————————————————————
Agnes Martin
2017
1536px x 2048px
iPhone Painting
A painter of exquisite, contemplative, sublime grids, Agnes Martin spent most of her life living alone, painting and practicing her own Zen-like spirituality. Her work was about aiming for a zero place "where nothing could stand in the way of truth." She invented her own kind of minimalist abstract expressionism and remains one of my most beloved Art Heroes.————————————————————————————————————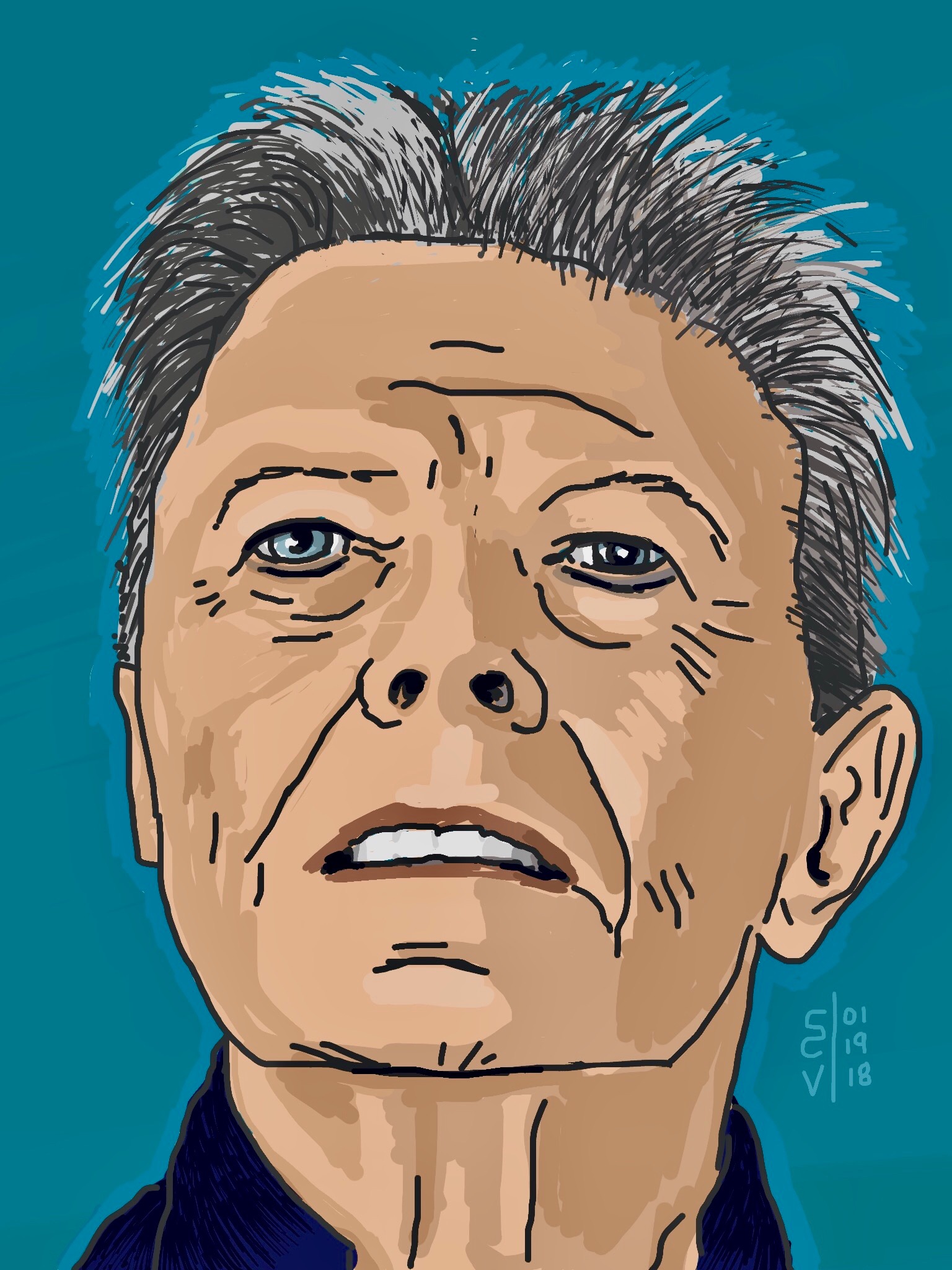 David Bowie
2018
1536px x 2048px
iPhone Painting
What more can be said that hasn't been said about Bowie, the great persona inventor, the cracked actor, the glam alien rock and roll star, and the modern artist extraordinaire? What I can say is the man who stole the world taught us all who the real heroes are. For this project, I chose to draw him in his final incarnation as the dying artist in honor of his long career exploding expectations and wrecking stereotypes. He's one of my most beloved Art Heroes.————————————————————————————————————
Philip Guston
2017
640px x 1136px
iPhone Painting
One of the great Abstract Expressionists of the 1950s, Guston later took a huge risk when he turned back to figuration while developing a hugely influential, neo-expressionist style of enigmatic and personal painting that feels freshly disruptive to this very day. Yes, his work lives on, continuing to challenge our assumptions about art and painting. On a personal note, he and I share a birthday, maybe that why he's one my best-loved Art Heroes.————————————————————————————————————
Brian Eno
2017
1536px x 2048px
iPhone Painting
Roxy Music co-founder, rock provocateur, producer of some of the greatest and most interesting popular songs the world has ever known, and Inventor of Ambient Music, Brian Eno was my first and forever Art Hero.————————————————————————————————————
Pipilotti Rist
2018
1536px x 2048px
iPhone Painting
One of my favorite video/installation artists, Swiss-born Pipilotti Rist makes funny, interesting, disturbing art about the female body, its power and its vulnerabilities. A great example of her work is called Ever Is Over All. It's a beautiful split-screen, slow-motion ballet featuring the artist sauntering down a city street joyfully smashing car windows with a huge, suggestive flower. Stunning. Oh yes, she is one of my Art Heroes.
————————————————————————————————————-